Popping up for a three-day weekend beginning January 17, the 43rd annual Art Deco Weekend brings excitement, art, and a whole lot of glamour to South Beach's Ocean Drive. The longest-running free community cultural festival in Miami Beach blends style with interactive experiences and more than 85 events, infusing a creative spirit into SoBe's streets. Check out five reasons to go to Art Deco Weekend below.
1. Sheroes: Women Who Made a Difference
Art Deco Weekend is celebrating 100 years of women's suffrage this year with a series of she-centric programming. The Art Deco Museum presents an outdoor installation, Women Who Made a Difference, highlighting the accomplishments of ten exceptional lady visionaries, defenders, educators, storytellers, and trailblazers throughout history. The large placards are on display in Lummus Park between 12th and 13th streets. Inside, Unfinished Business: The Fight for Women's Suffrage and Beyond will be on display using historical videos, life-sized 3-D models, photos, and props to illustrate the tactics employed by suffragettes to earn the right to vote.
The Wolfsonian will host a number of lectures dedicated to important women including Cover Girls, Building Women, and The Early Days of the Art Deco District, a tribute to the Art Deco District pioneer Barbara Baer Capitman told by her son Andrew Capitman. Check out the full lecture series, here. Following the opening ceremony to kick off Art Deco Weekend on January 18, the Women's Suffrage Centennial Parade will march at 10:30 a.m. All are invited to participate.
2. Guided Tours
Get to know the neighborhood with an in-depth tour of the Art Deco District led by a knowledgeable guide. Choose from architectural tours like the Ocean Drive tour (also available in Spanish and as a self-guided audio tour), Mediterranean Architecture tour, Flamingo Park Neighborhood tour, and the Deco Nights and Neon Lights tour. For something different, the Art Deco Welcome Center will be offering a special Sheroes, Remarkable Women of Miami tour that will cover the area between Ocean Drive and Lincoln Road. Your dog can get in on the action. The 'Arf' Deco Dog Walk invites your four-legged friends to meet at the Barbara Baer Capitman Memorial at 13th Street and Lummus Park and dress in their best Art Deco attire for a walk around Ocean Drive. All other tours leave from the Art Deco Welcome Center. Visit Art Deco Weekend for dates and times.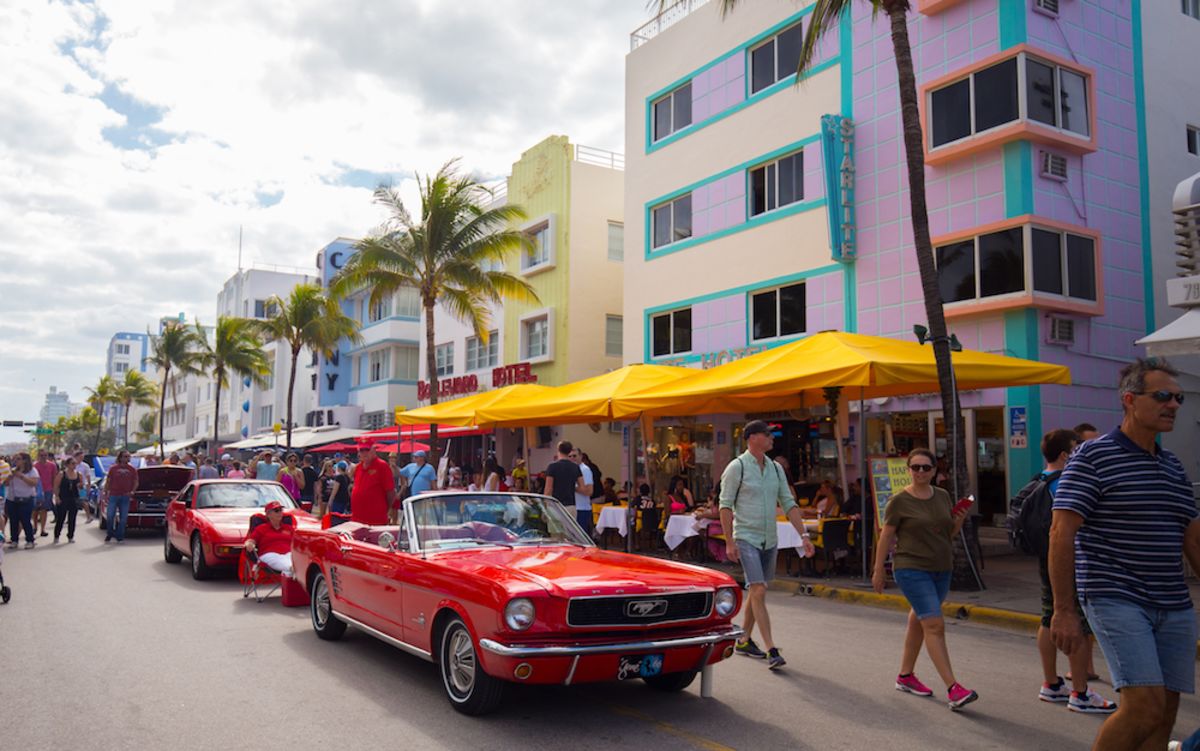 3. Classic Car Show
Ocean Drive revs up for the Classic Car Show to be held on Ocean Drive from 10 a.m. - 3 p.m. on Saturday and Sunday. Antique automobiles of all makes and models from the early 1900s up to 1991 have been invited to participate. Get colorful Instagram pics of roadsters, coupes, hot rods, muscle cars, and more lined up along the iconic street.
4. Art Deco Weekend Marketplace
Ocean Drive is closed to traffic during Art Deco Weekend to make way for over 100 pop-up shops, food booths, live musical performances, and the Antique and Design Promenade. Shop unique clothing, jewelry, art, antique decorative furnishings, and artisan crafts at the marketplace stretching from 6th Street to 14th Street along Ocean Drive. Food booths, carts, and dining areas will be at each corner, with several local restaurants offering special discounts and promotions during the festival. Four pop-up lounges throughout Lummus Park will be serving Prohibition-Era cocktails (think old fashioneds and gin rickeys), mojitos, and more.
5. Art Deco Poster
Did you even really attend Art Deco Weekend if you don't have the official poster to show for it? Each year, the Miami Design Preservation League produces a poster emblematic of the weekend's festivities. This year, artist Sergey Serebrennikov designed the powerful poster commemorating the 100th anniversary of women's right to vote. The poster depicts a suffragette speaking to a crowd, with subtle details like yellow roses symbolizing the suffrage movement and oranges depicting the gift Miami founder Julia Tuttle sent to convince Henry Flagler to extend the railroad south to the city. Grab your poster at the Official Art Deco Gift Shop.
Art Deco Weekend will run from January 17 to 19 on Ocean Drive, just two blocks from Washington Park Hotel. Save during Art Deco Weekend with our Advance Purchase special offer. Book early and receive up to 20% off our nightly rate, free classes at Glow Hot Yoga, and more exclusive perks.